CRAFT COFFEE & SODAS WITH
A
FLAVOR TWIST
Let us help you find your perfect drink. Choose your favorite base soda below!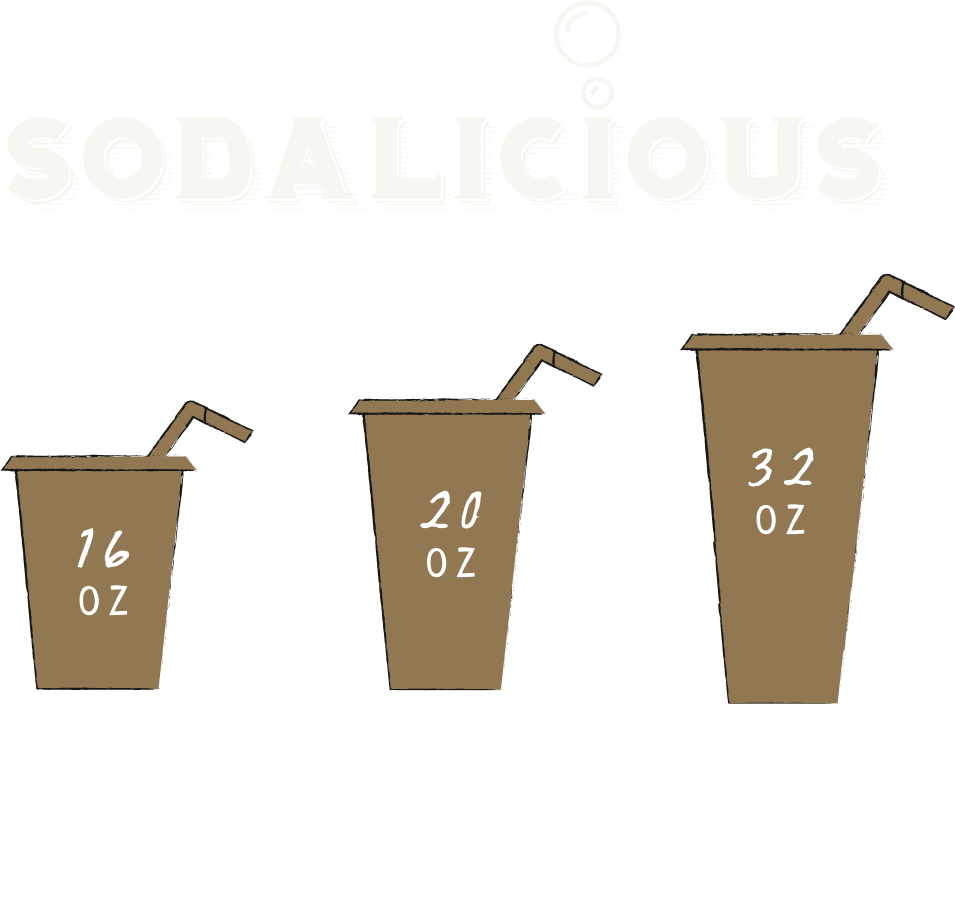 LET'S START WITH
YOUR BASE

DRINK
Berry Nuts
raspberry, coconut cream
Cherry Sublime
grenadine, coconut cream, fresh lime
Lime in the Coconut
coconut cream, fresh lime
Choc-of the Town
chocolate, cherry
Peach be with you
blue Curacao, peach
It's a grape day!
grape, fresh lime
You're one in a melon
blood orange, strawberry, watermelon
I of the tiger
tigers blood, coconut
Berry Mangilow
mango puree, strawberry
Made for peachother
peach, coconut cream
Drop me a Lime
cheesecake, fresh lime, lime
Don't fruit the messenger
lemonade, blue Curacao, green apple
Cake it Easy
cheesecake, cherry
Cherrific!
cherry, almond
Berry Sweet
raspberry, coconut cream, half/half
Peach for the Stars
peach, vanilla
So Vanilla
double vanilla, butterscotch
Camp touch this!
toasted marshmallow, salted caramel
Carma's a B****
caramel, vanilla
That My Jam
raspberry puree, SF coconut, fresh lime
Eternally grapefruit
grapefruit
It's Pear-fection
SF peach, pear
One Pine day
pineapple, strawberry
Lime feelin' good
mint, SF coconut, fresh lime
Tropic like it's hot
blue curacao, peach
Appley ever after
mountain dew, blue curacao, green apple
Halfsies
double coconut, double half/half
JAM SESSION
blackberry, raspberry lemonade
Kids Sips
SHARK BITE
sprite or sparkling water & blue raspberry
NEMO
sparkling water or sprite & tigers blood & cream with swedish fish
WHO TARTED
lemonade & strawberry
FLAVORS +25¢
*Ask about our sugar free options
Almond
Banana
Blackberry
Blood Orange
Blue Curacao
Blueberry
Butterscotch
Caramel
Cheesecake
Cherry
Coconut
Grape
Grapefruit
Green Apple
Honey
Lavender
Lime
Mint
Peach
Peanut Butter
Pear
Pineapple
Raspberry
Salted Caramel
Strawberry
Tiger's Blood
Toasted Marshmallow
Vanilla
… and more
PUREES +50¢
Mango
Peach
Pina Colada
Raspberry
Strawberry
CREAMS +50¢
Original
Coconut
Vanilla
LIME
Fresh Squeezed!